Formplex offers
Certegy Ezipay

-

NO INTEREST EVER REPAYMENT FACILITY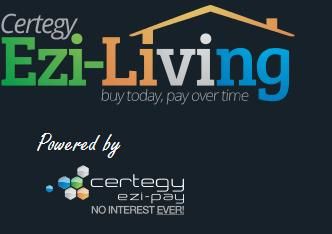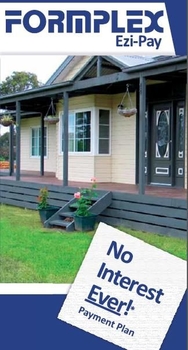 CERTEGY EZI-PAY Payment Plans
We offer a payment plan option through Certegy Ezi-Pay so you can make a purchase with Formplex today and pay for it over time in convenient fortnightly instalments. It's fast and easy to apply, and applications can take less than 5 minutes to complete. Your application will be assessed by our standard credit approval process.
One of the great benefits of a Certegy Ezi-Pay payment plan is that you never pay interest on the amount you owe. You will pay an establishment fee $80 to set up your account, and this is payable over the term of the
plan. There is a monthly account keeping fee of $3.50 which will be direct debited whilst your account remains active and a $2.95 payment processing fee that is included with each fortnightly payment. You know exactly how much
you will get charged as long as you stick with your payment schedule, best of all there is No Interest Ever!
For more information and to apply online please visit www.certegyezipay.com.au
Call us now on 1800 038 145 for more information.
Please note that Certegy No Interest
Ever!
repayment plan can only be offered to RRP quotes - You can either
enjoy a cash discounted promotional pricing or the convenience of fortnightly payments with NO INTEREST
EVER!
.
Either way you WIN.
*Certegy Ezi-Pay Express is a continuing credit payment plan provided by Certegy Ezi-Pay Pty Ltd. Fees, terms & conditions apply. Quoted pricing is based on RRP purchase of $11,165.00, over 30 month term & a 10% deposit paid.
Minimum amount payable $11,514.00 over 30 months, repaid fortnightly. Includes account establishment fee of $80 payable over the purchase repayment period. A monthly account keeping fee of $3.50 & a payment processing fee of $2.95 apply and are included in this example of $80 per week
Prices & repayment amounts featured are an example for illustration purposes only & are subject to change.Certegy Ezi-Pay Express No Interest Ever! applies.
Finance -
We will help you find the right finance or lending to allow you to enhance, protect and add value to your home within your budget and level of affordability at the best possible rate. We are customer focused and because this process can be stressful, we go out of our way to keep you informed every step of the way.
FORMPLEX
accepts Seniors Card and offers Pensioner Discounts -
Independant Mortgage Broker
Cathy is a mortgage broker independent to Formplex and very experienced in bank lending procedures. In most cases we will be able to give you a conditional approval over the phone within 60 minutes.
Committed to the long term
The majority of our business comes from existing customers and referrals from those customers. This is due to our emphasis on customer satisfaction and our focus on long term customer relationships.
Let us take the worry out of arranging all your financial needs.
We can provide you with real flexibility.
Monthly, fortnightly or weekly payments ? Fixed rate and Line of Credit loans ? No monthly account keeping fees
Based on your needs we will filter from a wide range of loans and present to you the most suitable loan options for your consideration. Once satisfied with your choice, we will then assist you with completing the application, lodging it with the lender and then driving it all the way through to settlement.
Throughout this process we are working for you and this service in most cases comes at no charge.
LOAN SERVICES -
We can assist with the following:
Home Loans

Investment Loans
Refinancing
Debt Consolidation
First Home Buyers
Home Loans/Investment Loans for the self employed
Personal Loans
Reverse Mortgage
Pensioners / Seniors