Architects / Designers and Specifiers...
It is your design and that your client will live with for the life time of the house. Guide them in the right direction with a quality Australian made product that looks good today and more importantly will still look good 10 or 50 years
down the road. Ensure that it will look innovative and not just a passing trend.
Give them the right choice with Formplex ExcellBoard.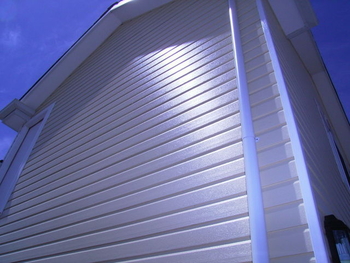 Click on the image below for an enlarged view
no painting required
reminiscent of timber weatherboards
Installs straight onto studs.
Light weight, quick to install.
uPVC ExcellBoard is the future.

Ideal and versatile for use in contemporary designs, country homesteads and coastal homes
looks great with a feature stone wall or brick and render
ideal for upper stories, extensions,
warm look of a weatherboard home without the maintenance
Keep your library updated. Call us for brochures and Excellboard samples and colours.
Have your plans specified with ExcellBoard today. Call us on 1800 038145 or email to
info@formplex.com.au
.
We can quote directly off Plans - Prompt quote turnaround time - Free Advice & Assistance Assured - 50 year Guarantee for Supply & Fit - Installation Guide with all orders.